Stitching Masters
Lisa Hawkins
Lisa Hawkins, who teaches our Beginners' Class year 'round on Tuesday mornings, is an experienced stitcher who can help novices navigate everything from canvas selection to recommended threads and techniques.
Lisa's warm smile and friendly approach make learning fun and easy. With her guidance, a new stitcher can successfully complete a project to be proud of!

Anne Freiburger
Anne joins us for the winter season and teaches her popular one-session classes
intended for beginning to intermediate stitchers, though they are so much fun
that some of our more experienced customers sign up for them, too. Anne introduces
techniques such as open stitches, beading and creating texture and dimension to
embellish a painted canvas. As a NAN-certified instructor, she helps students
bring their stitching to a new level. Students receive the instruction, stitch
guides and materials they need to finish the class project on their own
schedule.
Advanced reservations are needed for Anne's classes.
Susan Portra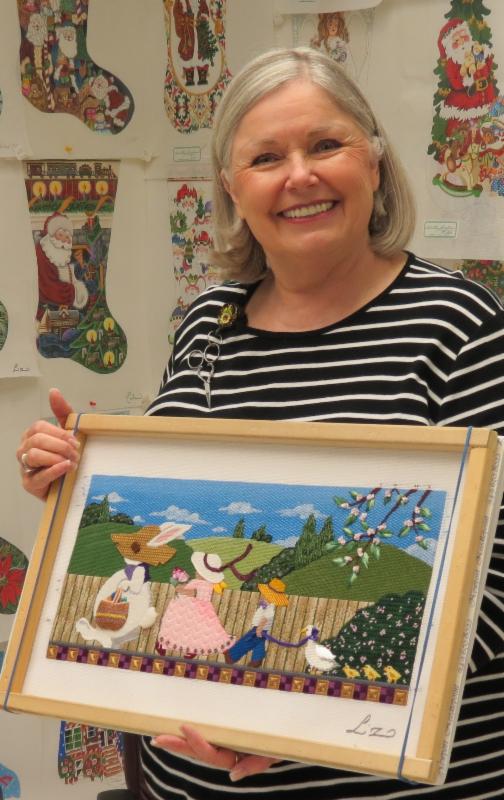 Ever since she took her first class in needlepoint over 30 years ago, Susan Portra
has been in love with the art of needlework and become a master instructor
herself. Her encyclopedic knowledge of techniques, materials, stitches and
styles, coupled with her talent as a designer, has inspired countless students
to learn and grow as needle artists themselves. Susan's secret is that she
never stops learning herself, so she is well able to distinguish between the timeless
and the trendy, guiding her students to create pieces that become elegant
legacies of their own dedication and skill.
Susan joins us here at Needlepoint in Paradise in February,
when she teaches her popular Bring Your Canvas to Life embellishment classes.
She also occasionally offers classes designed around a specific piece she has
chosen to introduce students to specific techniques and approaches. Susan also
offers private instruction by appointment. Her schedule fills well in advance;
reservations are required.
Tony Minieri
Tony's passion for needle art is contagious, and his dedication to creating
masterpieces in thread is legendary. He brings together a strict approach to
technique and a penchant for expression that yield stunning results in both
painted and charted canvas designs.
Tony is a devoted student of the arts, which enables him to bring an expansive
perspective to each project he encounters. Techniques and applications from
disciplines such as Japanese embroidery inform his approach to needlepoint and
expand his students' skills as much as they inspire their creativity.
Tony's goal is that his students learn and develop under his tutelage, and he
challenges them to reach new levels of expertise with each project they
undertake with him. He teaches every spring here at Needlepoint in Paradise;
advance reservations are required for his classes.
Patricia Sone
Patricia Sone, who hails from Dallas, TX, has taught needlepoint embellishment classes all over the country. Her passion for needlepoint and developing new stitches and techniques is life-long, and she enjoys sharing her ideas with others. In addition to traveling and teaching, she works with designers and shops to develop special projects.
Patricia is a member of TNNA, EGA and ANG. She has a BA in English from Southern Methodist University.
Cinda Ryan
Cinda is a fan favorite here in paradise. An excellent and accomplished stitcher in her own right, she has been an avid student of needle art for years and studied with top master instructors. She offers assisted stitching on Wednesdays and Fridays, schedule permitting, for a modest fee, and teaches her popular Stitch with Cinda, a more in-depth session once a month. Stitch with Cinda is designed to help participants past the hurdles presented by their own projects. Cinda helps interpret and modify stitch guides and gives suggestions for threads, stitches and techniques. Her patient style inspires the confidence students need to complete their works-in-progress successfully. Class size is limited and advanced reservations are required.
Paula Rae Schmidt
Paula, who hails from St. Paul, MN, has taught countless students, from beginners to experts. Her experience as both student and teacher has been a key part of her ability to facilitate a student's vision for a completed canvas. She developed her own Fusion style that offers a fresh approach to canvas embellishment and made her a popular instructor.